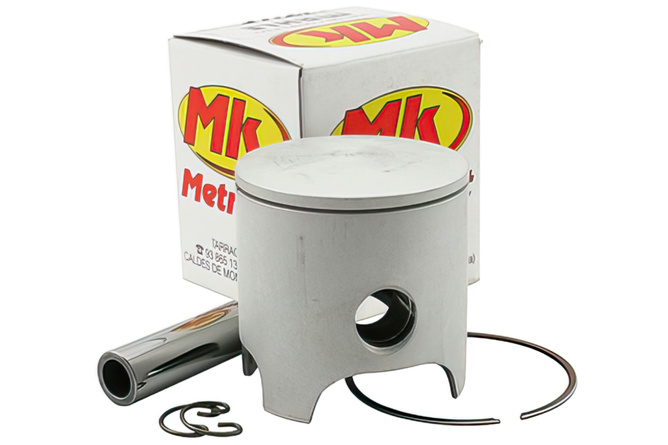 Metrakit Piston "SP3" 70cc (A) Yamaha Aerox / MBK Nitro
Auslaufmodell
Dieses Produkt wird nicht mehr hergestellt, daher können wir es euch leider nicht mehr anbieten.
Wir möchten euch jedoch gerne dabei unterstützen, eine Alternative zu finden. Bitte werft einen Blick auf weitere Produkte in derselben Kategorie oder kontaktiert uns, damit wir euch bei der Auswahl behilflich sein können.
Beschreibung
Metrakit Piston "SP3" 70cc (A) Yamaha Aerox / MBK Nitro. Spare piston for the 70cc SP tuning cylinder by Metrakit, renowned producer of racing and tuning parts and complete bikes for young riders. Pistons are subject to heat, friction and high loads and have to be replaced from time to time.
for 70cc SP series
47mm
complete with pin, rings and circlips
for Minarelli LC
Tip:
Whenever you mount a new component, you should replace all the gaskets as well.
Fragen zum Produkt
Warnungen und Hinweise
Wann Muss der Kolben ausgetauscht werden?
Um herauszufinden, wann der Kolben eures Motorrads, Rollers oder Mofas ausgetauscht werden muss, seht ihr am besten im Benutzerhandbuch eures Zweirads nach. Ihr könnt auch ein Auge auf bestimmte Symptome wie Kompressionsverlust, Leistungsverlust oder Ölverbrauch (nur bei einem Viertaktkolben) halten.
Lebensdauer des Kolbens verlängern
Um die Lebensdauer des Kolbens zu verlängern und den Verschleiß des Zylinders zu verringern, wird empfohlen, die Kolbenringe abwechselnd zu ersetzen. Diese Methode maximiert die Lebensdauer des Kolbens und verbessert die Leistung des Motors.
Es ist wichtig, dass ihr Zylinderdichtungen und die Kolbensicherungsringe bei jeder Demontage austauscht. Solltet ihr das nicht tun, kann das zu Öllecks und Motorschäden führen.
Tuning Level: Sport
Wir teilen unsere Produkte in unterschiedliche Leistungsklassen Original, Sport, Racing und High End ein, damit unsere Kunden die passenden Teile für ihr Setup auswählen können. Es ist hierbei wirklich wichtig, Teile aus demselben Tuningbereich zu kombinieren, die trifft insbesondere auf Zylinder, Kurbelwellen und Auspuffanlagen zu.
Die unter Sport geführten Produkte bringen mehr Leistung als Original Teile. Sie können technische Unterschiede aufweisen, wie z. B. die Verwendung höherwertiger Materialien, einen größeren Hubraum oder ein leistungssteigerndes Design. Sie eignen sich für den Einsatz im Alltag und sind langlebig.
Alu zylinder
Aluminium Zylinder sind bringen mehr Leistung als Grauguss Zylinder, allerdings erfordern sie regelmäßigere Wartung und müssen mit anderen Komponenten wie einer verstärkten Kurbelwelle und einem größeren Vergaser kombiniert werden.
Alu zylinder Einfahren
Alu Zylinder sollten etwa 200 Kilometer eingefahren werden, ihr solltet dabei ein vollsynthetisches Motoröl verwenden.
Hinweis: Um optimale Leistung und Zuverlässigkeit zu gewährleisten, ist es ratsam, die Quetschkante zu messen. Schaut euch dazu doch einfach unser Tutorial Quetschkante einstellen an.
Schreibe eine eigene Bewertung